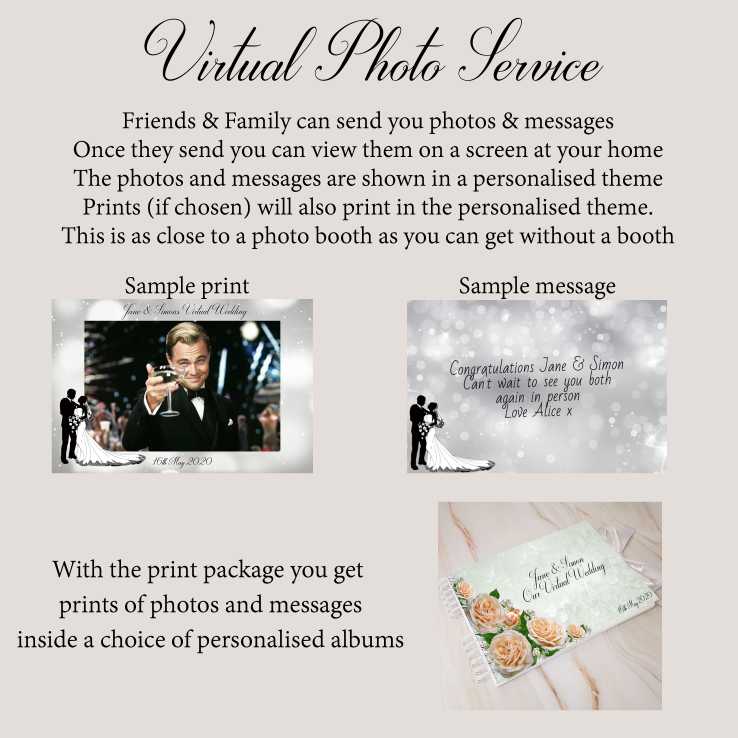 Our Virtual Photo Service allows your guests to send photos from anywhere.
They could be at your event or over the other side of the world all they need is a mobile phone or a pc/mac.
To send a photo or message they do not need to download anything and no apps are required.
A unique website address is given to you when you hire, this will be open for the duration of hire.
You can even set up a screen to see photos and messages as they are sent to you
The Digital Package includes:
24 Hour use
Unique address for your friends and family to use
Personalised Overlay for photos
Personalised Upload Screen
Download all of the photos and messages sent
Overlay and non overlay photos will be sent after your day
Our Print  Package includes:
24 hour use
Unique address for your friends and family to use
Personalised Overlay for photos
Prints of the photos that are sent
Personalised Photo Album (max 80 photos)
USB with all photos and messages
Download all of the photos and messages sent
Overlay and non overlay photos will be sent after your day